Any online marketer knows by now that links are earned, not bought. Google has been coming down hard on people who buy links, and for a very good reason. A leading SEO Services Sydney Agency shares the five best ways to build high quality links for your site. While buying links was once a working (yet highly objectionable) method for SEO, the end result remains the same – they make your content appear cheap and spammy. As Google are focusing on websites that provide useful quality content, bought links will only damage a site's reputation and lead to penalties.
As a method that once worked well, link buying simply isn't a sustainable practice anymore. All it will do now is leave you with cheap, meaningless links. These days, links are all about value and longevity that require meticulous planning to acquire. Rather than focusing on getting as many links as possible, nowadays it's best to fewer, but higher-quality links from authoritative sources such as sites in your particular industry.
What's more, buying backlinks isn't sustainable, and it will eventually burn out, leaving you with nothing but a bunch of cheap links that don't mean anything. If you want to develop lasting value, you've got to draw up a plan to earn high-quality, inbound links from authoritative sites in your particular industry.
Patience is a virtue which most definitely applies to link building. Expecting results overnight will only end in frustration. It all takes time, but is worth it in the end when your content is providing quality information for readers. Here is how it's done:
Why High-Quality Links are Important
A Moz study revealed that 99.2% of the top 50 websites in the results of a Google search had at least one quality inbound link pointing their way. It shouldn't come as a surprise to find the same study discovered that sites that had more quality links to them ranked much higher than those without links.
Although it's not completely impossible for your site to rank highly without links, they do play a significant role in helping you rise to the top of SERPs. Do keep in mind that your links should be high-quality – linking from any old site just won't cut it.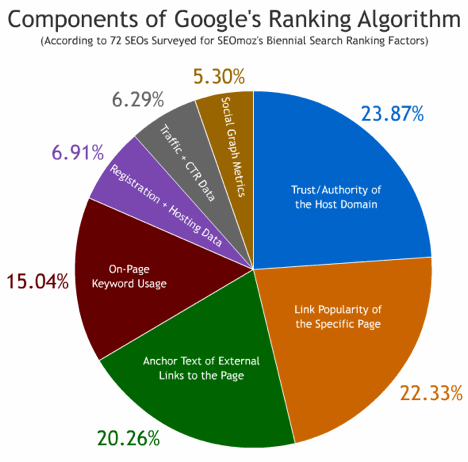 While links are now one of the highest contributing factors to ranking a site highly, their past is admittedly a little shady. Before Google started cracking down hard on black-hat SEO methods, one unscrupulous method of manipulating Google rankings was to stuff as much content as possible with as many low-quality links as possible.
Thankfully, though, Google are continually updating their algorithms and penalising those that practice this method. These days, the safest and most effective way of improving SEO is by earning links organically, instead of buying them.
With this in mind, here are the 5 most productive ways of building high-quality links to help improve your SERPs:
1. Connect with your Industry's Influencers
Influencers exist in every industry – no matter how obscure. They're the people with huge numbers of social media followers, and as such, they possess great power in your given industry. For this reason, they are great for organically building high-quality links for your website.
By building a relationship over time with the most accessible and prominent influencers in your industry over social media, you stand in good stead of being looked upon favourably when it comes to acquiring links from them. One option is to create a blog post that mentions some of their own content, and let them know you've done this. They are then likely to share your blog post, therefore exposing your cntent to their followers.
2. Guest Blog on Relevant Platforms
The web is constantly hungry for new content, so guest blogging is an ideal method for earning those high-quality links back to your website. This is a two-pronged method, as it can also help to position yourself as an authority in your particular industry. While guest blogging can take some time to get right, it's probably easier to do than you may think.
First, identify a suitable and relevant blog and reach out to its owner by pitching some original and unique content. It will probably take some time to implement, but keep firing off your pitches and you'll eventually get your guest post opportunity – or maybe even a regular spot on your chosen blog. Persistence is key, as this is one of the quickest ways of reaching the top of SERPs.
3. Interview Your Industry's Influencers
One way of developing a relationship with the influencers in your industry is by conducting an interview with them. Interviews are one of the best ways of creating unique content, and can help you provide value. Not only that, but you will most likely gain a high-quality link from your chosen influencer at the same time.
4. Create and Publish Ultimate Guides
It's always best to keep up with current online trends, and Ultimate Guides are one of the hottest forms of content at the moment. This value-providing evergreen type of content can also see you earning quality backlinks indefinitely. Ultimate Guides are useful for every industry. Get creative when writing them, but remember – as a rule of thumb, Ultimate Guides are generally in-depth long-form types of content.
5. Make an Infographic
People love infographics, so it's no surprise that they're 'liked' and shared around three times more than any other form of content. Because they're easily digested and full of value, creating an infographic can be a great way to appeal to a wide range of readers. There are several ways to create infographics – you could create them yourself using a free (or paid) infographic builder, or hire a professional or team of professionals to develop one for you.
By following these 5 tips, you can start to build some high-quality backlinks for your site which can significantly increase your site's SERPs. Although these methods may take some time, the results will be worth it in the end. Although building and earning high-quality links is important, don't forget about your internal links. These can contribute to your content strategy by ensuring your readers can quickly and easily find your other content while browsing your site.
While it may sometimes be tempting to take a shortcut and pay for links, this is in fact the quickest way to receive a costly Google penalty – both financially and for your site's ranking. The best way to earn and build links is with a little patience by following these 5 methods. Search engines will begin to take note of these links to your site from reputable sources and rank your site accordingly.
To contact Senka Melisa, email hello@top10insydney.com or visit us at https://top10insydney.com As an author, instructor, and consultant, she has advised and worked with companies and organisations across two continents in web analytics, regular testing of Google algorithms, web design, development, content management and online search marketing.